HAMMER HUNTER-1650G Black Children's Bike with basket, magnesium frame, lightweight
Easy move. Magnesium is 34% lighter than aluminum. Weight 8.4 kg
Folding steering wheel - basket q bell-
Suitable for a child about 5 years old and 110cm tall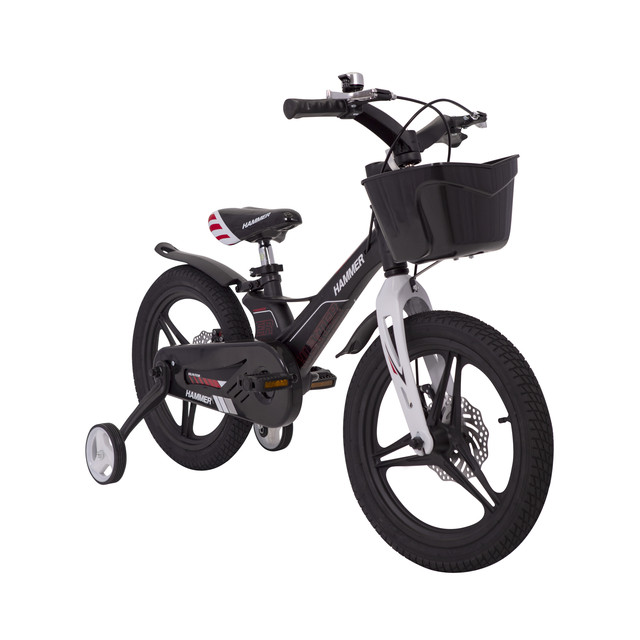 HAMMER HUNTER-1650G Black
The Children's Bike Hunter is made of magnesium frame which makes the bike extraordinarily light compared to conventional bikes made of steel.
Not sure what size of the bike (wheel diameter) is best to choose?
Measure the inside of the child's leg.
Distance from seat to pedal:
At a maximum of 48 cm
At a maximum raised position of 60 cm
Benefits of magnesium:
Very light. Magnesium is 34% lighter than aluminum, twice as light as titanium and 4 times lighter than steel and has the best weight-to-weight ratio of all the materials used in bicycle manufacturing.
Excellent extinguishing micro-vibrations on the road, providing a comfortable ride.
Show good running qualities not only on the highway, but also on low and medium-crossing terrain.
It looks spectacular.
Bicycle equipped with:
Additional safety wheels.
Rear and front wing to protect against dirt.
Protection on the chain.
A roomy basket.
Call.
Read more: https://baby-voyage.com.ua/p1093831506-detskij-velosiped-korzinkoj.html
| | |
| --- | --- |
| brand | Hammer |
| Manufacturer | Hammer |
| Тип | Детский без амортизции |
| Вес | 8.4 |
| Размер Рамы | 9 |
| Класс | Городской |
| Approximate age of the child | 4-6 лет (16") |
| Age category | детский |
| Frame size (orietizing height) | M(рост от 145 см) |
| Wheel diameter | 16" |
| Frame material | Магнезий |
| Suspension type | без амортизаторов |
| Color | Черный |
| Type of brakes | Ножные |
| Front brake | Ручной |
| Rear Brake | ножной |
| Additional equipment | вспомогательные боковые колеса, Корзинка, звонок |
| Carriage | тип"американка" |
See also