HAMMER HUNTER-1450D Yellow Children's Bike with magnesium frame lightweight basket
Magnesium is 34% lighter than aluminum, half as light as titanium and 4 times lighter than steel and has the best weight-to-weight ratio of all materials.
Suitable for a child about 4 years old and 100cm tall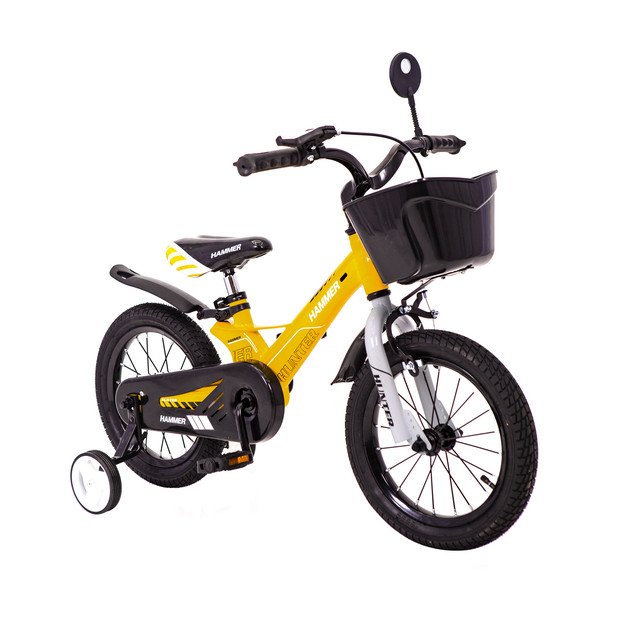 HAMMER HUNTER-1450D Yellow
The Children's Bike Hunter is made of magnesium frame which makes the bike extraordinarily light compared to conventional bikes made of steel.
Not sure what size of the bike (wheel diameter) is best to choose?
Measure the inside of the child's leg.
Distance from the seat to the pedal:
At a maximum of 44 cm
At a maximum raised 56cm
Benefits of magnesium:

- Significantly less weight
- Excellent absorption of microvibrations, which causes more comfortable driving.
- Excellent running characteristics both on the highway, and on low and medium-crossing terrain.
Bicycle equipped with:
Additional safety wheels.
Rear and front wing to protect against dirt.
Protection on the chain.
A roomy basket.
Rear View mirror.
Call.
It's cool!The bike is equipped with a rear leg brake!
| | |
| --- | --- |
| brand | Hammer |
| Manufacturer | Hammer |
| Класс | Городской |
| Approximate age of the child | 3-5 лет (14") |
| Age category | детский |
| Frame size (orietizing height) | XS (рост 100-140 см) |
| Wheel diameter | 14" |
| Frame material | Магнезий |
| Suspension type | без амортизаторов |
| Color | желтый |
| Type of brakes | Ножные |
| Front brake | Ручной |
| Rear Brake | ножной |
| Carriage | тип"американка" |
See also